Paul Morrow Invited to African American History Month Reception at White House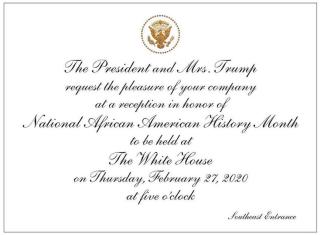 SDAC president Paul Morrow attended a reception at the White House on Thursday, February 27 to celebrate Black History Month. Morrow was an invited guest of President Donald Trump alongside black leaders from media, entertainment, sports and business.
"In every field, every generation, and every calling, African-Americans have lifted up our nation to new heights — and, like all citizens, you are entitled to a government that puts your needs, your interests, and your families first," Trump told the crowd, according to the Washington Times.
The President cited the Opportunity Zone program in which SDAC participates as a policy that has benefited African-American communities.
Read more:
https://www.washingtontimes.com/news/2020/feb/27/trump-hails-african-americans-contributions-black-/