Discover SDAC Rail Services
Your Premier Partner for Rail Construction and Maintenance Solutions!
At SDAC Rail Services, we specialize in the art of new track construction and meticulous maintenance of way, catering to both industrial railways and short line railroads.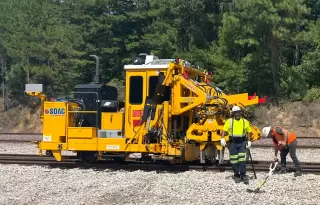 With a diverse team of professionals and cutting-edge equipment, we guarantee not only unparalleled productivity and efficiency but also a steadfast commitment to stress-free, zero-harm safety practices.
Our team at SDAC is your go-to source for design/build solutions, industrial and civil construction, facilities maintenance, management, and unwavering support. We pride ourselves on providing a secure, high-quality service that consistently delivers the best value solutions to our ever-expanding roster of clients.
What sets us apart?
Our talented staff, boasting a wealth of diverse backgrounds and experiences, adopts a client-first approach to every project. Furthermore, our substantial bonding capacity empowers us to secure substantial contracts at military installations, government sites, utilities, and rail facilities across the United States.
Don't leave your rail projects to chance – entrust them to SDAC Rail Services. Call us today and experience the difference as we guide you confidently on the right track to success!
SDAC Rail Capabilities
Timber Trestle Restoration
Tie Deck Replacement & Installation
Headwall Installation & Replacement
Track Rehabilitation & Retirement
Tree & Debris Clean Up & Removal
Undercutting/Yard Cleaning
Circle Track Maintenance & Installation
Magnesium Welding
(Frog & Switch Point)
24 Hour Emergency Response
NAICS Codes
482111
Line Haul Railroads
532411
Rail Equipment Leasing
488210
Support Activities for Rail Transportation
423860
Equipment Supplies & Merchant Wholesaler
237990
Other Heavy & Civil Engineering & Construction